Award of the 1st grant to Sarah Meyers
17/01/2018
 The exhibition "De Mains de Maîtres", initiated in December 2016 by Their Royal Highnesses the Hereditary Grand Duke and the Hereditary Grand Duchess, highlighted the great know-how of the artisans and art creators in the Grand Duchy of Luxembourg.
Part of the revenue generated by the sales during the first exhibition was to support, via the award of a scholarship the country's craftsmen and art creators wishing to train or improve their know-how. 
Many interesting files were introduced to the association "De Mains De Maîtres Luxembourg", as different in the nature of their request as well as in the know-how and materials discussed. 
The jury formed by the members of the board of directors of the association, namely by Her Royal Highness Princess Stephanie, Mr. Roland Kuhn, Mrs. Françoise Thoma, Director General of BCEE and by Mr. Tom Wirion, General Manager of the Chamber of Trades, and assisted by Mr. Jean-Marc Dimanche, curator of the exhibition "De Mains De Maîtres" had a difficult decision to make and finally awarded the grant to Mrs. Sarah Meyers.
The First Award Ceremony was celebrated on January 17th at the « Chambre des Métiers », in the presence of Their Royal Highnesses the Hereditary Grand Duke and the Hereditary Grand Duchess and the President of the association.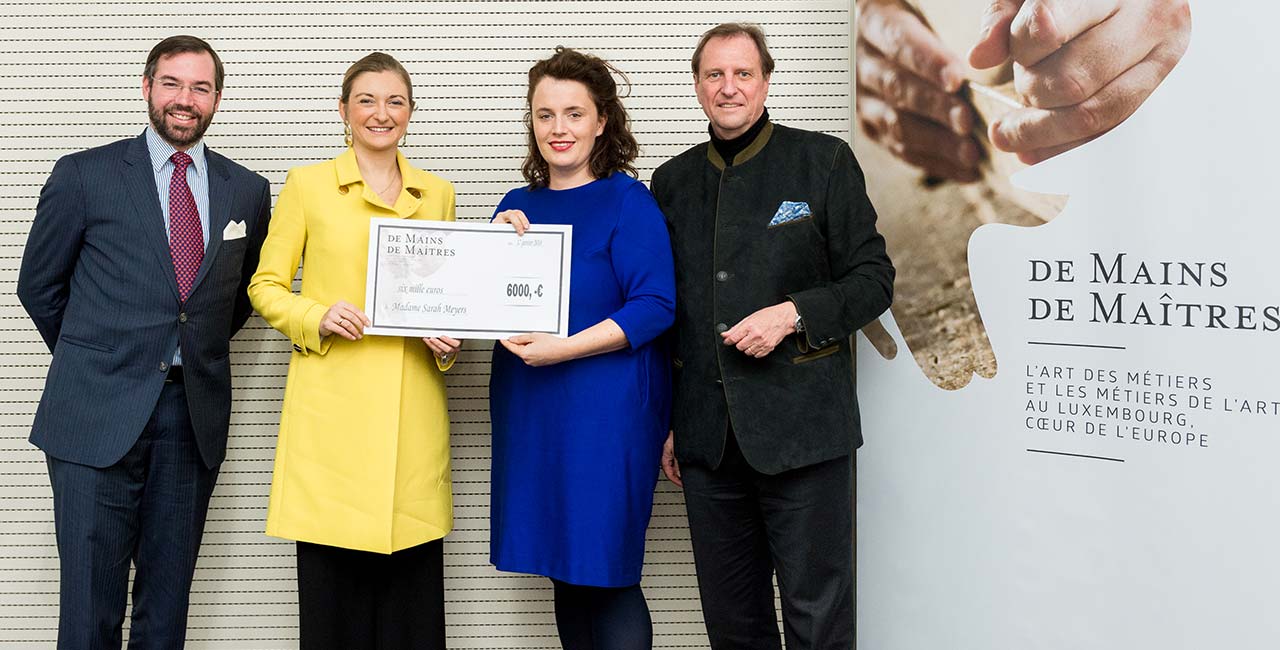 Known for her passion and her research on colour
, this artist proposed a project in continuation of her work around porcelain with bone ash and its colouring techniques, initiated during her Master of Art & Design at the Gerrit Rietveld Academy in Amsterdam.
To do so, she chose to attend a workshop dedicated to ceramics and colour in the capital of the Chinese porcelain, Jingdezhen, as part of an international exchange program supported by UNESCO.
A great way to acquire out of our borders a unique know-how,
which complements and refines the work already asserted by this very young designer, and also the best way to enrich in return our local crafts.
The quality and relevance of this project are the pride of the association De Mains De Maîtres Luxembourg, reinforced by its commitment to award to its craftsmen and art creators support grants to further develop the performance of fine craftsmanship within the Grand Duchy.
Would you have any question ?